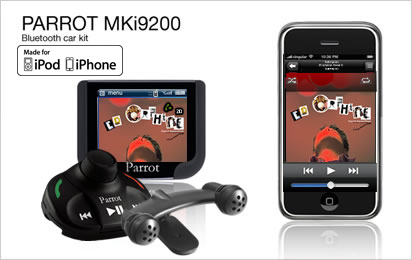 Parrot MKi 9200
A complete system dedicated to in-car calls and music.
The Parrot MKi9200 is a Bluetooth hands-free system with a 2.4-inch high-resolution TFT colour screen. A wireless remote control can be positioned on the steering wheel or dashboard and allows the driver to control all the functions of the MKi9200.
In addition to conventional telephony functions – pick up, hang up, dual calls – the Parrot MKi9200 boasts cutting-edge telephony functions: automatic phonebook synchronisation, training-free multi-speaker voice recognition, speech synthesis of the names in the phonebook, contact management (up to 2 000 per phone), call records, and so on.
Its colour screen displays the phonebook, caller ID and photo, phone information and user settings. The menus and phonebook are also audible for easier, more intuitive use.