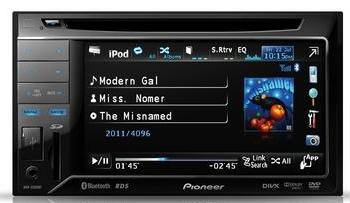 Pioneer AVH-3300BT
In-car Bluetooth and entertainment with style.
Make Bluetooth calls and enjoy your favourite films and tunes. The AVH-3300BT is your in-car control centre for calls and plenty of AV options on a 5.8" touch screen in your dashboard (requires 2-DIN slot).
A Parrot Bluetooth module makes wireless calling hassle-free: it can remember 5 phones and saves up to 1000 contacts. A noise-cancelling microphone is included.
Enjoy your music and film collection in almost every popular format, including CD, DVD, MP3, WMA, AAC, and DivX. On the front panel, you'll find an auxiliary input and a USB input so you can easily connect your iPod, iPhone (requires optional cable) or other device. Or play music straight from an SD card (card slot on the front, for cards up to 32 GB).
Dual Zone allows adding screens so rear-seat passengers can watch a film, while front seat passengers listen to music from another source simultaneously.
Audiophiles can be assured of high quality and pure audio, customised to their needs. The 8-band graphic equaliser, high/low-pass filters, Sonic Center Control and Auto EQ (with optional microphone) let you best match your device to the acoustics of your car.
Want more power? This tuner has 3 Hi-Volt RCA pre-outs, so you can boost your in-car set-up with additional amps, subs and speakers.
You can personalise the main menu items, background image and button illumination (from a choice of 113 colours).
Upscale your system with our optional AVIC-F220 hideaway gps unit for stress-free route guidance across Europe.