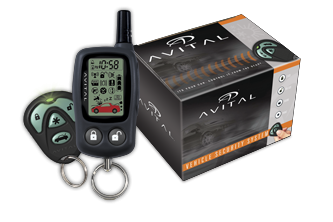 Avital 3300L
Product Features:
2-Way LCD 5-button remote is backlit, has tone and vibe modes, Zone ID.
Command confirmations and event notifications via the LCD remote control.
One-Way functions withe the 4-button companion remote (included).
All the advanced security features you expect:
Zone-2 Impact sensor.
Fault-proof starter interrupt.
Nuisance Prevention.
Warn-Away.
Revenger siren.
Relays on board for door locks, starter kill, parking light, and dome light.
Bitwriter programmable for easy configuration.
System Features:
Limited Lifetime Warranty.
Fault-proof starter interrupt.
Six-Tone Siren.
Zone 2 Shock Sensor.
Warn-Away (lower-level response).