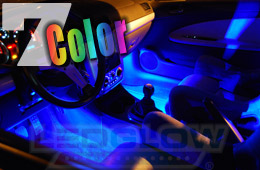 LEDGLOW 7 COLOR LED INTERIOR LIGHT
LEDGLOW's 4 Piece 7 Color Interior Kit features four super bright multi-colored tubes for your vehicle's interior and is packed with an assortment of features at an affordable price.
This LED interior light kit features 7 solid color modes which include blue, red, green, purple, teal, white and yellow. This interior lighting kit offers a wide variety of mounting options such as your foot well, under your seats, or even under your dash using the included mounting brackets. LEDGlow's 7 color LED interior lights include a total of four 9 inch tubes with 18 ultra-bright LEDs per tube giving you a total of 72 wide angle LEDs. Each tube also includes 6 feet of wire allowing maximum mounting capabilities. The included control box features 7 solid color modes, 4 fade modes, 3 strobing modes, as well as one sound activation mode.
The sound activation mode offers 5 different patterns that will that will allow your interior tubes to flash to the beat of the music playing inside of your vehicle using a built in microphone, and the sensitivity is easily adjusted with a wheel that is located on the side of the control box.